Welcome to the Maranatha  Adventist Church in Seattle! We are a
Christian community and would love to have you join our family. To learn
more about what we believe and how we live, love, and share God's
bountiful grace, you can visit our About Us page. Please join us for Bible
study, worship & fellowship. Check our calendar for speaking schedule,
special events, and more!
 Join Us For ONLINE OR ONSITE SERVICES @ 11:30am
Please click here for our livestream and video archive
Please consult our Facebook page @maranathasdaseattle for livestreaming services and ministry activities are feel free, under any public health guidelines and precautions, to join us onsite. Be safe and God bless! 
Sabbath School: 9:30                                               Bible Class: 10:15 am  Saturdays
Worship Service: 11:30 am Saturdays
                                                   
Addictions Group Counseling: Every Saturday @ 4 pm
FREE LEGAL CLINIC: 2nd & 4th Thursdays
Bible Study: Thursdays @ 6:30 pm (monthly series - check social media for latest updates)
SERVICE and MINISTRY CALENDAR
Tues (1st & 3rd) - 6pm - Packing food boxes for distribution on 1st and 3rd Saturdays @ 1pm, immediately following service.
Thursdays @ 6:30pm PST - "Exploring Faith"  online Bible Study
1st and 3rd Saturdays - Food & Grocery Distribution and Delivery
Saturdays 10:15-11:15am PST - Children's Church Ages 5-15 (Bible Stories, Songs, Arts & Crafts, Outdoor Activities) 
11:30am PST - Worship Experience  w/ the Maranatha Praise Team & Pastor Derek L Lane
A Worldwide Church Family
The Seventh-day Adventist Church is a mainstream Protestant church with approximately 19 million members worldwide, including more than one million members in North America. The Adventist Church operates 173 hospitals and sanitariums and more than 7,500 schools around the world. The Adventist Development and Relief Agency (ADRA) works within communities in more than 130 countries to provide community development and disaster relief.
Check out this video and how God has created opportunities to expand our reach and bring the Kingdom to the community!
           Up & Coming... 
Happy New Year, Everyone!
Join us as we begin the new year with a 40 day devotional centered around our theme: FLOURISH!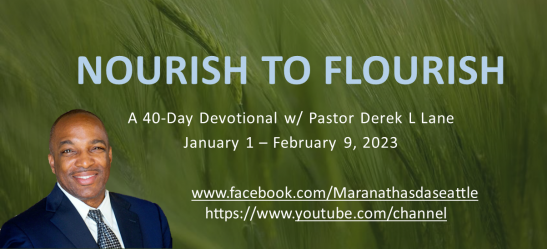 January 1, 2023
                             NO HIDING PLACE
"When Jesus heard of it, he departed…and when the people had heard thereof, they followed him…" Matthew 14:13
     While Jesus sought out a solitary place, crowds of people, either through ignorance or sheer desperation, sought Him as well. When Jesus heard the news of John's death, He made an effort to retire from the crowded throng, but when the multitudes heard He was departing, they invaded His solitary space with their own needs, seemingly oblivious to His.
      While ministry and Christian service is a spiritual discipline and expected of all believers, taking time out for spiritual reflection and personal growth is an essential and integral part of ministry. And while His compassion moved Him to extend Himself to serve, immediately following the miracle of the feeding of the 5,000, the Bible says in verses 22 and 23 that "straightway Jesus constrained his disciples to get into a ship…while he sent the multitudes away. And when he had sent the multitudes away, he went up into a mountain apart to pray: and when the evening was come, he was there alone." (Matthew 14:22,23 KJV) Jesus was eventually able to secure the solitary time for meditation and prayer which He had sought earlier. He first provided food for the needs of the multitude, then He provided nourishment for His disciples, and finally, He received strength and nourishment from His Heavenly Father in prayer.
     This powerful example left for us by Jesus Himself, should serve as a striking example of the need to balance work and rest, service and solitude, the work of Christ through us and the work of Christ in us. This process is a part of the natural order found in creation. Our very heartbeat is nature's way of reminding us of the balance between periods of rest and work. The revolutions of the earth, which provide periods of sunlight and darkness, the seasons, the ebb and flow of the tides, the metamorphic cycles found in living creation, all serve to remind us of the need to seek balance in both our physical and spiritual lives.
      Conforming one's existence to the natural rhythms of life is especially important for the believer. All too often, and for whatever reason, we have a tendency to extend ourselves to the point where we are out of rhythm and don't take time for growth and reflection and end up over-extending ourselves, burning out, and losing faith in the process. Because of an inability to handle all of the various needs tugging at us, coupled with an irresistible sense of obligation to meet them, we end up longing for a hiding place.
          Just as Jesus sought a period and time for solitude and reflection, so believers need to seek out a hiding place today for the same. Most who read the story of the feeding of the 5,000 can relate to a need to get away from all of the pressures and challenges life throws at us. Sometimes we slip into the warped thinking that seeks to justify our need to feel needed and resist again and again, the soul's cry for rest. Our excuse? No hiding place. We claim there is nowhere to go to escape the demands and needs of life. No hiding place. We say, "There is never any time" to experience periods of rejuvenation and recuperation. No hiding place. But rather than serve as a way to justify the imbalance in the lives of believers, this story rejects it. Jesus does eventually send the multitude away. He is intentional about taking time for spiritual reflection. Although He came to engage in the most important work that has ever been done or ever will be accomplished on earth, He still took time and found space for a hiding place. May we do the same.